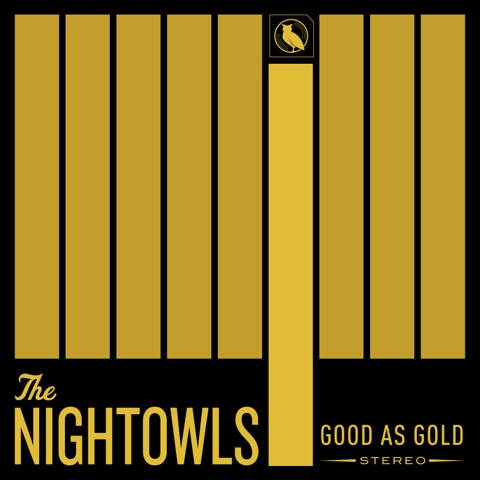 The Nightowls – Good as Gold
From a recording standpoint, this album is almost too clean. The songs scream raw but the recording screams digitalabout
If you hang around Mojolists at all, you know that soul and funk are enjoying a huge revival. You also know that we support every damn last one the folks who bring that horny goodness into our lives. Austin band, The Nightowls began their soul journey around 2011 and recently released their first album, Good As Gold, a catchy series of funk infused soul syrup too sweet to resist.
Lead singer and frontman Ryan Harkrider takes nostalgic walks through sacred styles of soul and Motown and makes it his own. It certainly helps to have eight talented musicians pumping out some of the funkiest beats found outside Detroit. Soul doesn't exactly have a geographic home right now, with bands like The Bamboos jiving out of Australia and the likes of Wily Bo Walker shaking things up in England. I can only dream we see a migration of musicians carrying their horns to Austin.
Good As Gold begins with the bands well-crafted take on soul, a modernization that leaves the raw emotion of the genre intact. "You Don't have to worry" has a serious Jackson 5 vibe as the album takes to cruising the streets of Motown for a few songs. Good As Gold flows into a grinding, grooving, heartfelt and all together mesmerizing conclusion with Blood Run Cold, an eight minute piece that I could loop all day.
From a recording standpoint, this album is almost too clean. The songs scream raw but the recording screams digital. I did purchase the MP3 version rather than the available CD, which might – might reduce this slightly. The talent associated with the recording and mastering of this album is clear, I found no digital compression and it would be considered perfect by many, the music just begs for the warmth of analog to my ears. I think a vinyl release would help and is almost required considering the rebirth of vinyl and the crate diggers are largely responsible for the resurgence soul is enjoying right now. (See Daptone and RecordKicks)
The Nightowls Good As Gold is a must own despite my nit picking, so click the link now and start enjoying it. Please purchase the album directly from the Nightowls website to ensure the band gets the maximum revenue. It is nearly impossible for musicians to earn a living from their work in this day and age so please go out of your way to support them when you care enough to listen to their music.
Now, I gotta see where The Nightowls are playing because I think this band may be even better live!